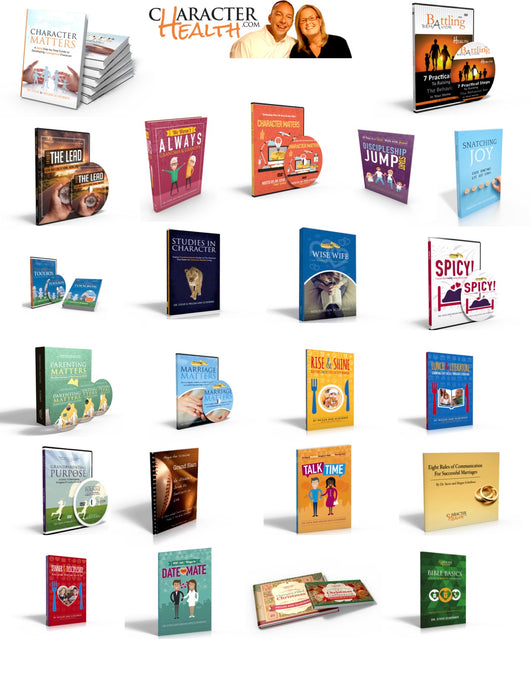 Bundle the E-Bundles
Regular price $149.00 Sale
THIS PRODUCT IS DELIVERED VIA EMAIL
Take the incredible opportunity and order all four of our amazing bundles at a deeply discounted price! 
Thrive Tribe Discipleship Bundle
Longing to hear "Well done, my good and faithful servant"? Do you want to bring glory to God?  From the youngest toddler and all the way to mom and dad, Biblical discipleship is the key to becoming a spiritually thriving family. The Thrive Tribe Family Discipleship bundle has something for everyone. This bundle is jam-packed with discipleship resources and support: the 28-Day Discipleship Jumpstart will start you confidently down the road of a lifetime of growth and discipleship. Moms: Rise and Shine, Lunch and Literature, and Dinner and Discipleship provide real-world discipleship for you, as well as practical suggestions to disciple your children. Dads: Taking the Lead will equip you to lead in your home and at work. For middle school and older kids, Character Matters: Boldly Going Where No Brain Has Gone Before will arm your kids with the confidence they need to make wise, proactive choices. Do you have an athlete? Grand Slam will prepare your athletes to be good teammates, confident leaders, and humble servants. Growth and change doesn't have to be boring and tedious! The Thrive Tribe Family Discipleship bundle will provide your family with fun activities for spiritual discipleship that will build great family memories for years to come.
Awesome Kids Bundle
Ready to embark on a joyful and character-filled parenting journey? The Awesome Kids All the Time bundle has everything you need to raise happy and successful kids… Kids who will be equipped to build strong relationships, make good decisions, and reach their full potential. This package includes our flagship course: The Nine Practices of the Proactive Parent (includes two workbooks), and the intensely practical 365-day devotional: Character Matters. These foundational materials will provide parents with the support they need to train their children with confidence.
Marvelous Marriage Bundle
Do you want your marriage to be marvelous? The Marvelous Marriage bundle is chock-full of Biblical teaching and practical tips and techniques to make your marriage all that it can be. Whether you're getting ready to walk down the aisle, trying to find time for one another in the midst of your parenting years, or hoping to really enjoy your empty nest the Marvelous Marriage bundle has something for every season of marriage. Included in your bundle is our flagship course: Marriage Matters (includes two workbooks), Taking the Lead (for men), The Wise Wife (for women), and Spicy-'Cause God Really Cares About Your Sex Life. With something for each spouse, the Marvelous Marriage bundle is a resource you'll return to over and over.
 Grandparenting is Groovy Bundle
Want to be the "grooviest" grandparent on the block? Have we got the bundle for you. Admit it … Your grandkids are the real MVTPs in your world. (Most Valuable Tiny People) While spoiling those little humans is fun for a time, we'd all agree that building a family legacy and passing on our family values is what's really important. But how? That's where the Grandparenting is Groovy bundle comes to the rescue. Included in your bundle is our flagship grandparenting course: Grandparenting With Purpose, (includes two workbooks) the hardcover We Weren't Always Grandma and Grandpa legacy book, the devotional book Character Matters, and the fun read-aloud The King of Thing. All of these resources are chock-full of activities to do with your grandkids, plus practical tips and techniques to help you become a trusted ally to your own kids and the #1 favorite person to your everyone!