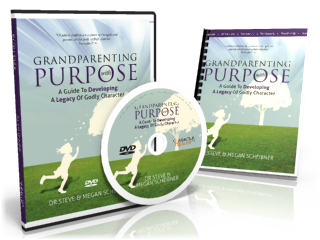 Grandparenting with Purpose SET (DVD+2Workbooks)
Regular price $35.00 Sale
In this DVD course, Steve and Megan strengthen and encourage grandparents to have a long-lasting impact on their own family. With an instructive and intensely practical approach to grandparenting, the Scheibners help grandparents everywhere navigate the important issues related to their children and grandchildren.
·      Can I have an impact on the lives of my grandchildren?
·      What is the balance between helping and interfering with my grown children?
·      Is it possible to establish a long lasting family legacy for Christ?
Find the answers to these questions and more in this easy to view DVD set.
Grandparent demand and three years of nationwide research led Steve and Megan to develop this groundbreaking teaching for the extended family. With the baby-boomer population aging and moving into the third generation, the need to develop a family legacy of Godly behavior has become even more essential.
Topics include:
The Principle of Modeling
Building A Family Legacy
The Grandparenting Growth Model
Earning The Right To Be Heard
The Restoration Model
Developing a Finisher's Attitude
The set includes:
·      Six lessons on DVD
·      Two large print workbooks